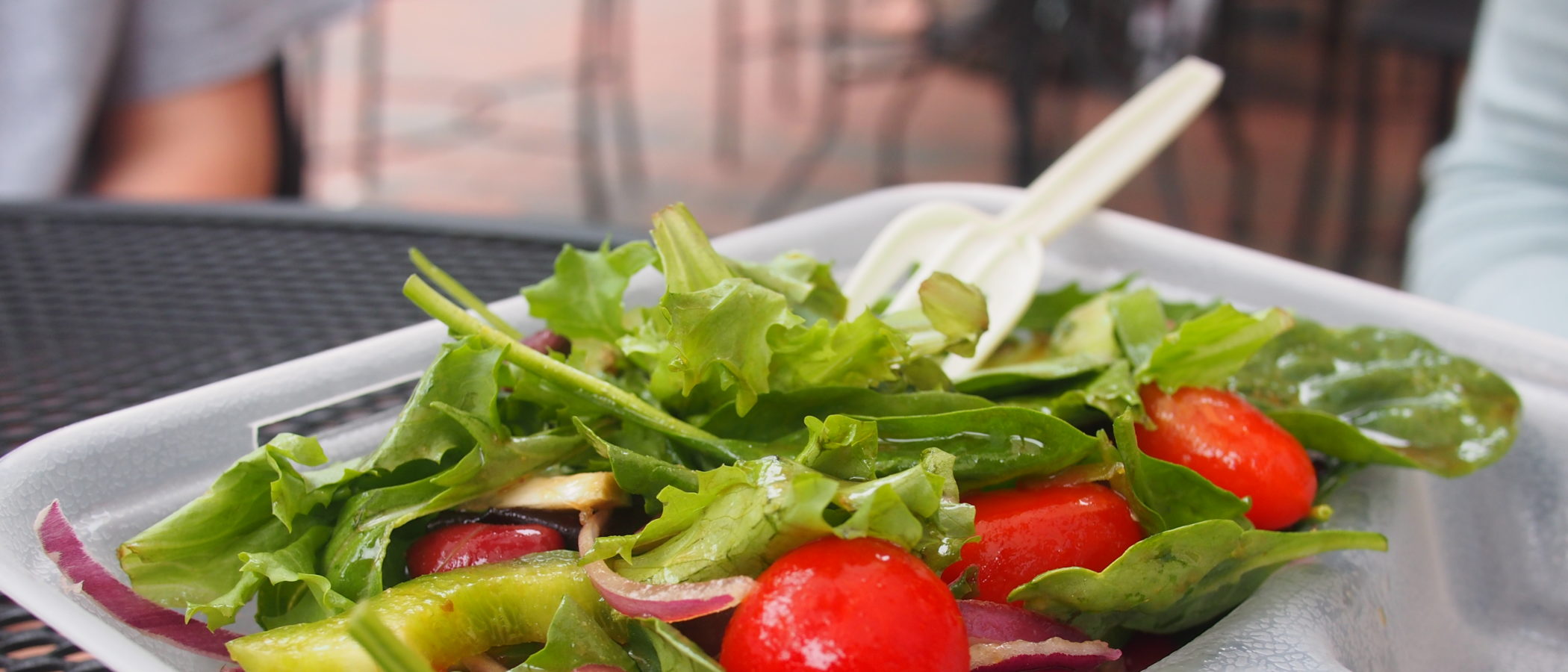 High Standards of Nutrition
We hold ourselves to a high standard of nutrition and seek to offer healthy, nutritious options.
Fry in zero trans-fat vegetable oil.
Use a zero trans-fat, canola and extra virgin olive oil chef blend.
Use a zero trans-fat, dairy-free margarine.
Use all natural, allergen-free vegetable, chicken and beef bases.
Identify "Smart Choice" items and 500 calories or less meal options.
Provide a fully loaded salad bar filled with a variety of fresh vegetables, fruits and protein alternatives.
Always have a lean protein option for every meal period – chicken, turkey, pork or fish.
Always have low-fat milk, yogurt and cottage cheese.
Always have whole wheat pasta and bread, and occasionally brown rice.
Provide menus, nutritional information and ingredient listings on our website.
Digital menu signage features nutritional and allergen information.
Seek feedback from a Student Dining Committee on menus and nutritional programs.
We proudly recognize your food preferences and nutritional needs. That's why we offer diverse, complete-protein vegetarian and vegan options during every meal.
Tweet This
Vegan & Vegetarian Options
Vegetarian
The Fresh Food Company follows a four-week menu cycle for each of each stations. Every day for lunch and dinner, we have a station solely dedicated to vegetarian options. This station offers a complete-protein meal consisting of one vegetarian entrée and three vegetarian side dishes. Additionally, we offer an extensive salad and fruit bar featuring vegetarian protein toppings such as eggs, yogurt, cheese and cottage cheese. Garden burgers, black bean burgers, soup and vegetarian pizza and pastas are also offered daily. Vegetarian options are flagged on our digital screens in the dining halls and posted on our website. For nutritional information
Vegan
Frequently, the menu items offered at the vegetarian stations are vegan. Many of our menu items utilize soy protein as well as textured vegetable protein in an effort to provide vegans with adequate protein intake. We cook with a dairy-free margarine that is free of any milk proteins, making it vegan friendly. Our salad bar features vegan protein toppings, such as beans, hummus, chickpeas and seeds. All of our breads at the deli are vegan, peanut butter and jelly is always available, and one can visit the salad bar or the grill stations to add vegetables and other protein alternative toppings to their sandwiches or wraps. We offer other wonderful vegan alternatives such as black bean burgers and soy milk, and some selections of our soups are vegan. We also offer a vegan dessert selections every day. Vegan options are clearly identified at each station on the digital screens in the Fresh Food Company and on our website.
Vegetarian & Vegan Options in Food Courts
When eating vegetarian or vegan, it is important to make sure you are consuming complete proteins. Plant proteins are not complete like animal protein; however it is possible to obtain complete proteins by combining different plant protein sources. Some of the complete protein combinations are: Legumes and Grains, Dairy and Grains, Nuts or Seeds and Legumes.
Portion Sizes
It's easy to overeat if you're not sure of standard serving sizes. Over the past several years, food manufacturers and restaurants have increased portion sizes, much larger than most individuals need. Learn more for examples of serving sizes of common foods and the recommended number of servings for those consuming 2,000 calories per day.