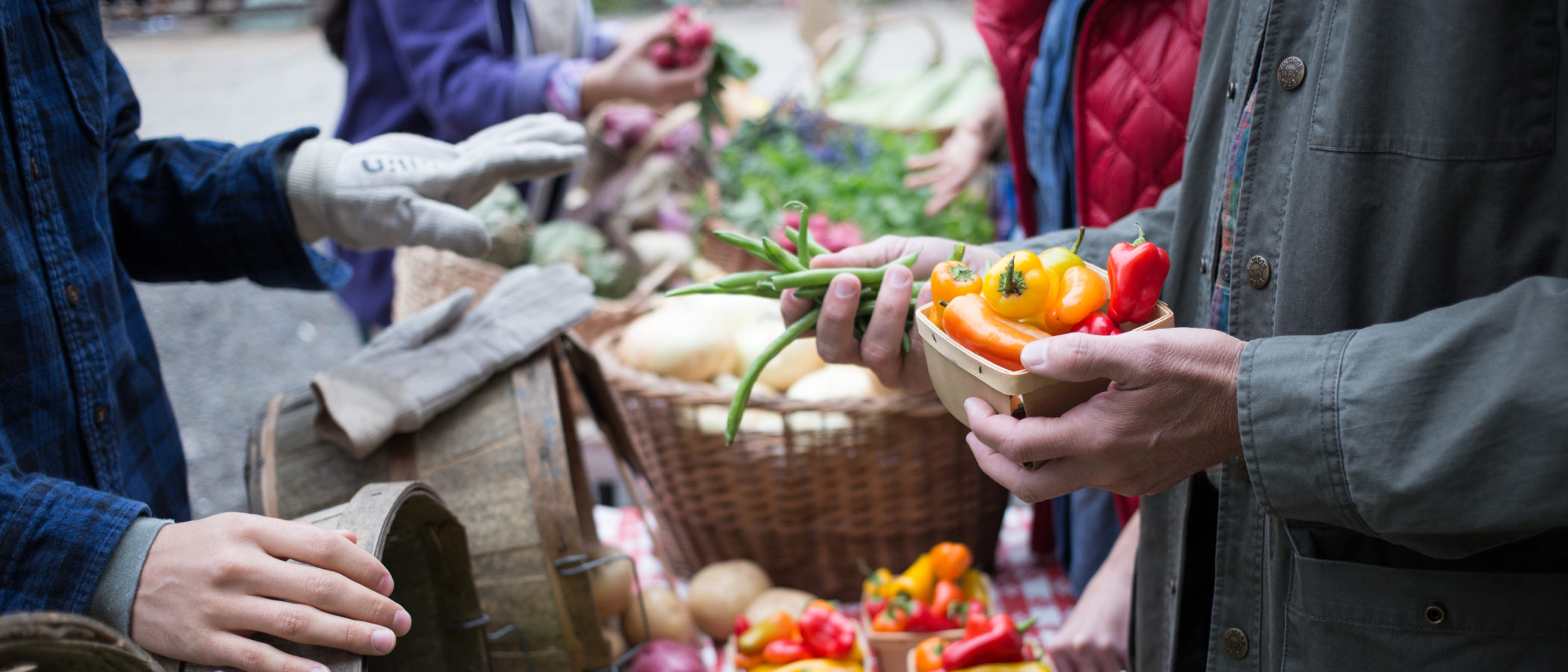 We recognize the various levels of interest and awareness on the topic of sustainability within a large campus population and are dedicated to students through activities and programs. The goal of our program is to identify, promote and educate the Georgetown community on sustainable initiatives, concepts and practices pertaining to campus dining.
We regularly engage in community outreach through informational tabling sessions, sustainable food samplings and various programs and partnerships. We also work with the Office of Sustainability on campus to align our initiatives with the greater University goals and policies.
Our sustainable operational initiatives can be broken down into the following pillars: Sustainable Food, Waste Reduction + Conservation and Community Involvement. For a brief overview, please review the sustainable initiatives listed below.
Overview of our Program
Sustainable food purchases, inclusive of our dining hall and food court locations, are tracked and reviewed for the following sustainable food labels: local, regional and third-party certified.
Vegan and vegetarian offerings are available daily in all of our locations.
Recycling receptacles are offered in both back of the house operations and in front of the house for our guests.
Back-of-the-house composting carried at all locations on campus.
Reusable to-go container program at The Fresh Food Company.
Food production planning and waste management practices are an integral part of our daily operations.
Trayless dining program throughout campus implemented to conserve water.
Energy efficient lighting by converting to LED Lighting.
Energy Star rated equipment and low VOC (Volatile Organic Compounds) paints/glues in new
construction and renovation.
Sustainable Food
A Greener Menu—we don't mess with Mother Nature. She created a season for all fruits and vegetables and we obey. In the fall, our menus feature recipes using late-season berries, tomatoes, corn, and other vegetables. Winter brings savory, hearty greens, potatoes, squashes, and sweet root vegetables, as well as apples and pears from our local orchards. Spring will find us celebrating the first shoots of spinach, asparagus, peas, and wild fare, like ramps, fiddleheads, and mushrooms. We are passionate about creating menus that incorporate ingredients in their peak season.
We purchase locally through our partnerships with EA Parker Farms, Nalls Produce, Davis Mushroom, Firefly Farms, H&S Bakery, Bumblefish Sushi, and Taharka Brothers Ice Cream. In addition to our focus on the freshest, local ingredients, we practice the following environmentally friendly purchasing standards:
• One hundred percent of milk purchased is hormone-free
• All shell and liquid eggs purchased are cage-free
• All fresh and frozen fish will be Monterey Bay Aquarium Seafood Watch "Best Choice" (Green List) designated for the region in which it is purchased
• All canned Skipjack and Albacore Tuna is sustainability sourced
• Preference to Fair Trade products
We also commit to purchasing at least 30 percent of food and food-related services from within 150 miles of the Georgetown campus and at least 40 percent of food and food-related services from within 250 miles of Washington DC by July 1, 2017.
Some of our local vendors include:
H & S Bread – Annapolis MD
Ice Cream – Hershey,  Harrisburg PA
Dairy – Cumberland Farms, Baltimore MD
Coca Cola – Washington DC
Seafood – Samuel's and Son's – Philadelphia PA
Sushi – Bumblefish – Rockville MD
Waste Reduction + Management
A Greener Solution to Waste Management—from composting and recycling to food waste controls, we support a closed-loop waste management process. Our innovative practices include partnering with suppliers who share our purpose, working to reduce source packaging, enabling recovery and reuse of discarded materials, and recycling waste to create raw materials for other purposes.
Provide reusable to-go containers in our dining hall that have eliminated the use of disposable containers.
We avoid the overproduction of menu items and favor controlled portions and inventory.
We constantly strive to reduce source packaging, enabling recovery and reuse of discarded materials.
We ensure a separated and measured waste stream, including recycling of bottles and cans; the recycling of cooking oil into biofuel; composting; and reporting, tracking, and measurement of waste.
All paper products purchased will have recycled content and be recyclable.
Reduction or elimination of non-critical paper goods, such as trays and bags for transporting products, with a goal to replace with reusable options.
Minimize waste and continue to support the composting of all pre- and post-consumer food waste on campus.
50% of restrooms in Leo's are equipped with automatic sink fixtures, with the intention to eventually install no-touch sinks in the remainder of restrooms. In addition to saving water, automatic faucets provide a more sanitary environment for dining service employees and guests.
A Greener Involvement—there is no better way to promote environmental passion for the community than by getting involved. Whether hands-on, through donation, or practicing the three Rs, we are all about coming together as a community for a healthier future.
Innovative promotions that support community and societal sustainability goals, such as World Vegetarian Day, Earth Day, and an annual "Weigh the Waste" event as consumer engagement opportunities.
Zero-waste catering event option and execution of showcase event.
Educational signage for employees and customers (including catering customers); label all local products in our locations, providing grower profiles whenever possible.
Partnership with University for Campus Farmer's Market.
Creation and distribution of annual Georgetown University Dining Sustainability Report.
Appoint a sustainability champion who will focus on enhancing our sustainability platforms and engaging students in our programs and initiatives.
Establish an ongoing supplier review committee who will meet periodically to analyze process, ensure alignment of suppliers with the established purchasing criteria, and address new partnerships with farmers and vendors.
Help the community through our food donation program—all collected items safely stored and packaged for donation to a local agency who would ultimately distribute the goods to those in need within the within Washington, DC; work with DC Central Kitchen, and continue to support this initiative.
DC Central Kitchen is America's leader in reducing hunger with recycled food, training unemployed adults for culinary careers, serving healthy school meals, and rebuilding urban food systems through social enterprise.
Community Involvement
We engage in community outreach in order to spread awareness of our efforts in sustainability as well as to educate and garner participation in our programs. We make it a top priority to partner with student-led environmental groups and other campus and community organizations on shared initiatives.
We donate food to the DC Kitchen and Georgetown's Mobile Soup Kitchen.
We partner with the Office of Sustainability to seek out cross-promotional opportunities for waste-related initiatives, obtain and exchange waste diversion statistics, and organize recycling and composting pick-ups.
We participate in the Association for the Advancement of Sustainability in Higher Education's (AASHE®) Sustainability Tracking Assessment and Rating System (STARS®).
We partner with the Sustainability Office to gain insight into top campus sustainability initiatives and to provide the office with the food and beverage purchasing data.
We offer educational and awareness tabling and information sessions designed to engage students and promote current sustainable food efforts, highlight environmental holidays and gather support for current dining initiatives.
We meet with a Student Dining Committee to discuss new and innovative sustainable dining initiatives.
There's more!
Interested in more tips on how to live a more sustainable lifestyle while dining with us? Check out the quick list below to do your part.
Look for sustainable food items present in our locations.
Be sure to clean your plate! While we do compost all post-consumer food waste in the dining hall, food waste is more than just the physical serving sitting on your plate; you are also wasting the materials and energy that went into preparing that food in the first place.
Divert waste from the landfill; utilize recycling receptacles whenever available.
Participate in our sustainable programming each semester.
Reach out to us and share what you value! The success of most sustainable programs depends on your participation. Please share your thoughts!