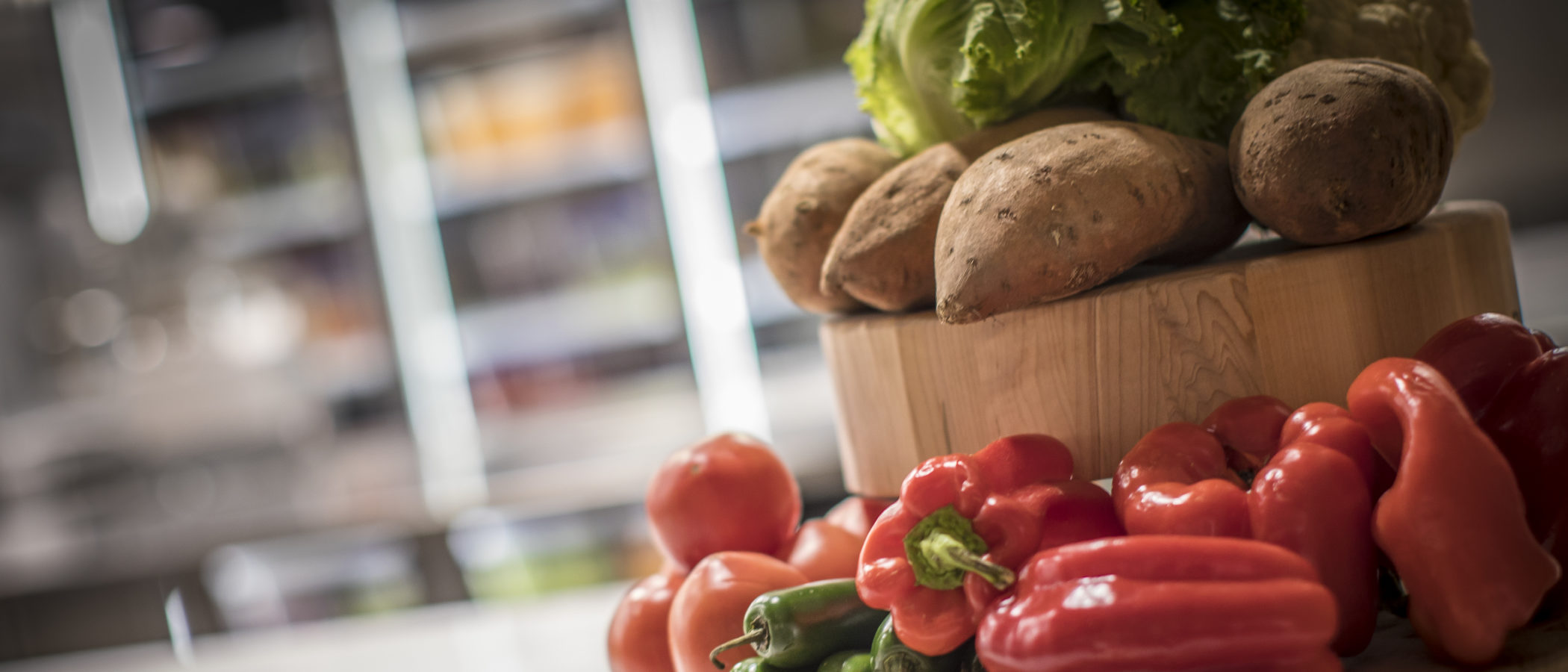 ---
Religious Restrictions
At Georgetown, we execute the University's commitment to interreligious understanding by offering a variety of dietary cuisines.
"I eat Halal"
The Halal station at The Table and Olive Branch are two of Hoya Hospitality's most popular stations. Our chefs specifically prepare menu items that do not use pork, pork by-products, or alcohol in any recipes, and all animal meat proteins are certified Halal.
Menu selections at The Table are available for lunch and dinner and can include a variety of options including: Curry spiced naan with Salmon and vegetable toppings, Grilled Chicken Kabob with rice and vegetables, Curried Chickpeas over Rice with Goan Curry Sauce, Lamb Meatballs with Roasted Greenbeans,  Curry Cauliflower Tempura, Crispy Fish Platters with Greek Fries and much more!
The Table also has a fully loaded Hummus station that is available every day for lunch and dinner.
During Ramadan, halal offerings will be available at The Table until 9 pm, Sunday through Saturday. Students are welcome to check out a green to-go box for meals that will be eaten at a later time.
Hoya Hospitality labels food items that contain pork or pork derivatives including: Pork, Gelatin, Rasher, Sowbelly, Gammon, Pancetta, Bacon, Ham, Pork bellies, Lard, Prosciutto and Capicola.
Hoya Hospitality relies on our vendors' ingredient listings to determine if pork or products derived from pork are explicitly included in the food item. Because we operate a commercial kitchen where ingredient substitutions, recipe revisions and cross-contact with foods that contain pork or products derived from pork is possible, Hoya Hospitality cannot guarantee that any food item will be completely free of pork or products derived from pork.
"I eat Kosher"
Kosher meals are readily available for students at The Table, Royal Jacket Deli, Epicurean and P.O.D Market. These items are prepared and certified Kosher by a third-party vendor.
Menu items that may be offered include:
Breakfast selection: Yogurt Parfait, Muffins, Bagels
Lunch/Dinner: Salmon with Vegetables, Honey Smoked Turkey Sandwich, Chicken Matzo Ball Soup, Mushroom Barely Soup, Turkey Pastrami, Veggie Wrap, Roast Beef Sandwich, Gluten free Tuna Wrap and much more!
At The Table, there is a designated Kosher Microwave where students are able to heat up their meals.
Our associates, chefs, and managers are trained on proper food handling to minimize cross contact.
Hoya Hospitality relies on a third-party vendor, ingredient listings and allergen information. If you have specific questions regarding managing food allergies, intolerances or sensitivities, please talk with the on-site Registered Dietitian, Chef or manager on duty to assist.
---
Dining Accommodation Process
Georgetown allows students to seek a dining related accommodation if the current dining options cannot meet their medical or religious dietary needs. Please click the link to learn more: