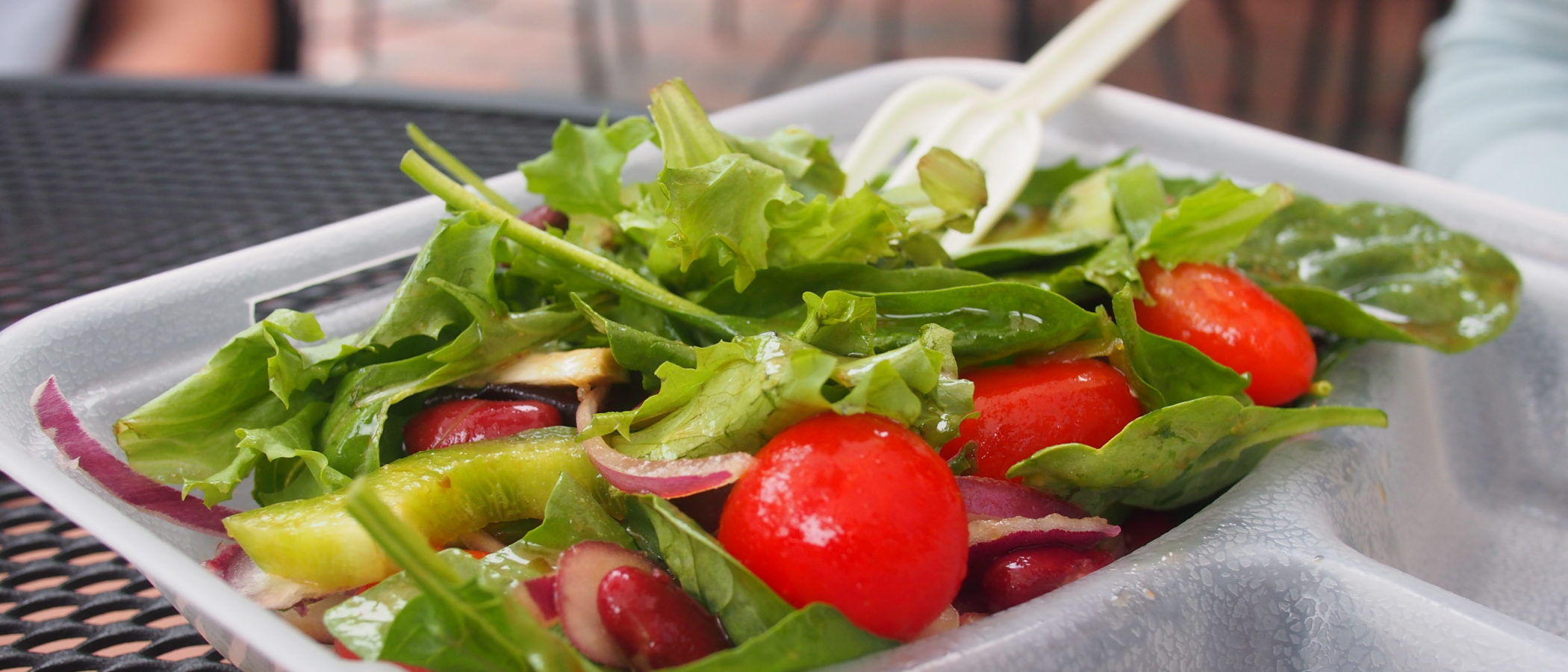 High Standards of Nutrition
We hold ourselves to a high standard of nutrition and seek to offer healthy, nutritious options for all students. Our culinarians are skilled at creating extraordinary dishes, crafted with fresh ingredients, that taste absolutely amazing. Students find themselves pleasantly surprised when they dine at Georgetown!
Additionally, students at Georgetown have access to an onsite dietitian who can help students manage their dietary needs and provide guidance on healthy eating while on campus.
All of Georgetown's menu items can be found online at Hoyaeats.com. Guests can view complete nutritional information including the Nutrition Facts, Ingredients and Allergen information.
Here are a few interesting facts our about Nutrition Standards:
Provide a fully loaded salad bar filled with a variety of fresh vegetables, fruits and protein alternatives at The Table and Epicureans. Students also enjoy Crop Chop at Leavy Center
At every meal period, we will always serve a lean protein option such as chicken, turkey, pork or fish. Additionally, we always have tofu available or other plant based protein options
We always have low-fat milk, yogurt and cottage cheese options available
We use all natural, allergen-free vegetable, chicken and beef bases
We fry foods in a in zero trans-fat soybean vegetable oil
Use a zero trans-fat, canola and extra virgin olive oil chef blend.
Use a zero trans-fat, dairy-free margarine
Identify "Smart Choice" items and 500 calories or less meal options
Always have whole wheat pasta and bread, and occasionally brown rice.
Provide menus, nutritional information and ingredient listings on our website.
Digital menu signage features nutritional and allergen information.
Seek feedback from a Student Dining Committee on menus and nutritional programs.
We proudly recognize your food preferences and nutritional needs. That's why we offer diverse, complete-protein vegetarian and vegan options during every meal.
Tweet This
Portion Sizes
It's easy to overeat if you're not sure of standard serving sizes. Over the past several years, food manufacturers and restaurants have increased portion sizes, much larger than most individuals need. Learn more for examples of serving sizes of common foods and the recommended number of servings for those consuming 2,000 calories per day.