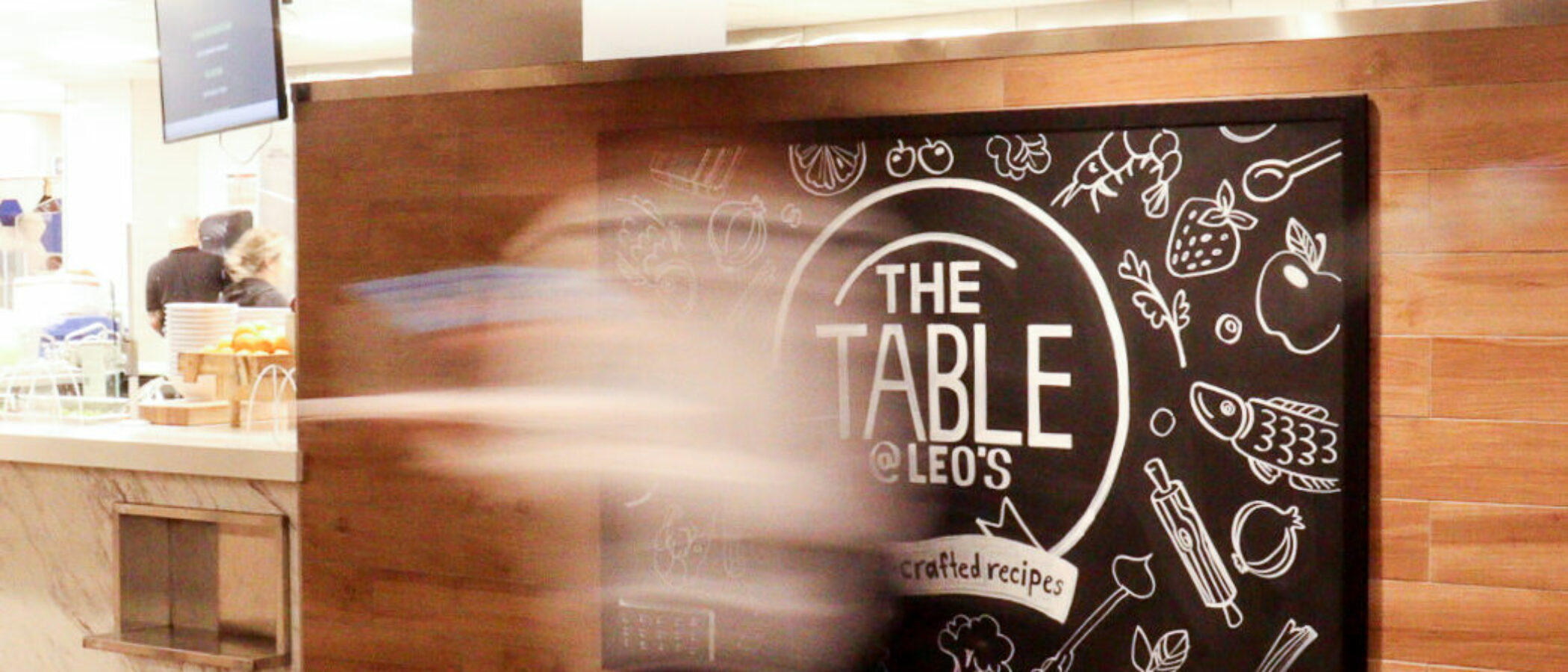 The Table at Leo's
Our main dining location is called The Table and it is located on the lower level of Leo O'Donovan Hall. When dining at The Table, our students can expect a wide array of food options that cater to many different dietary preferences and dietary restrictions. The Table features 12 different, all-you-care-to-eat, stations. Please scroll down to see a summary paragraph describing each station available at The Table.
You can also view our full menu on our online (hoyaeats.com > menus & hours) or by clicking the link below:
Allergen Station
Georgetown was first to introduce the True Balance Allergen station which is completely dedicated to removing the Big 9 allergens from all its menu items. The Big 9 allergens are: Peanuts, Tree Nuts, Egg, Milk, Soy, Fish, Shellfish, Wheat and gluten, and Sesame. This station is available 7 days per week, for all meal periods. To assist students with food allergies, each station has an LED digital screen that display what we are serving, the nutritional information, ingredients, flags for the top 9 allergens and dietary preferences.
This station is one of Georgetown's most popular and offers an extensive flavor profile!
Gluten-Free Cooler: To best accommodate students with celiac or gluten sensitivity, we have a fully stocked Gluten free fridge available for all students. The fridge contains many delicious meal items such as: Gluten free sandwiches, Gluten free salads, Gluten free desserts, Gluten free bread and bagels, gluten free snacks. This fridge is available during all meal periods. Just ask a representative!
Plant Power Station
At Georgetown, we have a station that is dedicated to meatless, eggless and dairy-less dishes! Our Chef de Cuisine specially designed the Plant Power station, offering vegan options, available 7 days per week for all meal periods. Many students enjoy our Plant Power station which features chef and student inspired vegan creations including: Vegan Waffles, Chickpea Scramble, Oat Yogurt, Spiced Quinoa, Tofu Tacos, Cranberry apple couscous salad, House made Spaghetti, Eggplant meatballs, Mediterranean stir-fry, gourmet roasted vegetables, Veggie Lo Mein and many other options to choose from.
Menu items are considered vegan if they exclude meat, poultry, seafood, gelatin, dairy, eggs, honey and vitamin D3.
The labeling of vegan and vegetarian is common at every dining hall on campus. While Plant Power specifically only serves only vegan options, students can also navigate all other stations in the dining hall and find a surplus of options labeled both vegan and vegetarian.
Vegetarian items are those that does not contain: meat, poultry, seafood or gelatin.
We hope you enjoy this station as much as we do!
Salad Bar Station
Our extensive salad bar offers fresh, seasonal and local vegetables. It is the first station students can expect to see when entering the dining hall. The Salad bar runs throughout lunch and dinner and is available 7 days per week. We regularly serve fresh vegetables, grains and proteins including: Spinach, romaine lettuce, peppers, carrots, cauliflower, broccoli, olives, banana peppers, mushrooms, tomatoes, quinoa, black beans, quinoa salad, chickpeas, egg, chicken salad, tuna salad, diced chicken and much more. We have a wide variety salad dressings including some that are student inspired such as the Lindsay Lemon Vinaigrette. We also serve 2 flavors of Greek yogurt and fresh fruit during lunch and dinner period.
During Breakfast, the salad bar transforms in yogurt and fruit bar and serves select yogurts and freshly prepared fruits with your choice of granola or honey. Have some fun creating your own breakfast parfait!
Halal Station
Our student community truly loves our Halal station as it serves delicious cuisine 7 days per week, for both lunch and dinner. Menu items include: Chicken with cacciatore sauce, herb roasted turkey, roasted broccoli, Vietnamese Rice bowl, Blacked Grilled Chicken, Cajun Brown Rice, Spiced Peach BBQ Sauce, Fresh steamed Green Beans, Szechuan Beef Stir-Fry, Fettuccine Noodles, Beef and Salsa Burrito bowl and many more.
Additionally, we have implemented a "Pork" icon which helps to flag all items that contain pork (or alternate names for pork such as:  pork, gelatin, rasher, sowbelly, pancetta, bacon, ham, lard, prosciutto, capicola and pork bellies.
We do our very best to flag all items that contain pork, however, there may be some instances were a marking was missed. It is recommended that if you are dining outside of the halal station, to review the ingredient listings, ask our Chef(s) or our onsite dietitian for any item that may contain pork to reduce accidently exposure. Additionally, there are a few recipes that contain rice vinegar and mono-diglycerides however, those will be listed in the ingredients online.
Bowls Station
At Georgetown, our culinary team and dietitians have worked together to design menu items that fit the dietary needs of many students. We have specifically geared the Bowl Station to serve menu items that are prepared using minimal oil, reduced amounts of garlic and onion, and provide more items that do not contain gluten or dairy. Based on student feedback, these types of adjustments will help cater to many students who prefer meals that are simply prepared with a preference of made without gluten and dairy, lower in sodium, and seasoned naturally with herbs. This station features consistent menu items that rotate weekly. Students may find bowl creations that come with: Rice, Quinoa, Cous Cous*, Rotisserie Chicken, Grilled Steak, Steamed Carrots, Oven Baked Mixed Vegetables, Green Beans, Garden/salad mix, paired with different sauces.
It is important to note that while this station does not use garlic or onion in the recipes, and uses mostly items that do not contain gluten or dairy, there is possibility for cross contact to occur in the cooking process due to shared kitchen space.
This very popular station tops the charts in terms of flavor profile!
Please note, the above menu offerings at Bowls is during the full Academic School year (Fall through Spring). Menu offerings change for summertime sessions.
*Cous Cous is a non-gluten free gain
Soup Station
The soup station consistently serves fresh and ready to eat soups for lunch and dinner, 4  days per week. Students are welcome to build their own soup bowl adding in a variety of fresh ingredients such as: Noodles, Rice, Egg noodles, Green onions, Cilantro, Soy Egg, Peppers, Lime, Bean Sprouts, Black beans, Kidney beans, Diced tofu, Diced chicken, beef and garlic toast. There are 4 different rotating soup bases including Chipotle Tomato broth, Vegetable Ramen broth, Chicken broth, Beef Broth, Tomato Soup and Pho Vegetable broth.
Students absolutely love the station as it is the perfect meal after running from class to class on a cold winter day!
Grill Station
One of the most popular stations, The Table is constantly operating the Grill station as it is open 7 days per week, 3 meals per day. In the morning, students can enjoy a make-your-own omelet using a variety of ingredients including your choice of: Egg, egg white, peppers, mushrooms, tomatoes, spinach, mozzarella cheese, cheddar cheese, ham and turkey. During lunch and dinner, the grill regularly serves a Build-Your-Own hamburger and offers the option of Turkey or Veggie burgers. Our veggie burgers include: Impossible Burger, Black Bean or Beyond Burger options. We also regularly serve grilled or fried chicken sandwiches. Students can elect to use a Brioche bun or our Gluten Free buns upon request.
Comfort Station
As in it's name, the Comfort station serves some of Georgetown's most comfort-ing cuisines. The Comfort station consistently serves menu items that are delicious and filling. Each morning, the you can find a choice of French toast or pancakes, bacon or turkey bacon, scrambled eggs, oatmeal and grits. Due to the popularity of breakfast, lunch is always a repeat of breakfast items. During dinner, this station shines serving items such as: Jumbo cheese ravioli, Spaghetti Sauce, Roasted Tomatoes and Mushrooms, Buffalo Chicken Mac and Cheese, Steamed Corn, Baked Herb Tilapia, Braised Cabbage and Bacon Salad, Southern Dirty Rice with bacon, Maple Roasted Squash, Rotisserie Jerk Chicken, Potatoes Au Gratin, Peppered Turkey Breast, Herb Stuffing and many more.
Oven Station
A student favorite is the oven station. While Oven is closed during breakfast, it opens for both lunch and dinner and serves a consistent option of pizza and Caesar or Greek salad. Our pizza options typically include cheese, a meat based pizza, and a vegetable based pizza. Some types of pizzas we serve include: Classic Cheese pizza, Mushroom and Sausage Pizza, Meat Lovers, Pizza, Grilled Balsamic Veggie Pizza, BBQ Chicken Pizza and many more.
Pasta Station
A new favorite, our residential pasta station is a big hit amongst our Georgetown Community! The pasta station is available 4 days per week and offers students a choice of pasta and a choice between a creamy alfredo sauce or savory red sauce. Often times, students pair pasta with a custom-made salad or top it with various protein options such as chicken, turkey, tofu or beans!
Our interactions with students is what helps our dining experience exceed expectations. Our students are truly the heart of the operations and we could not thank them enough for their ongoing support and ideas. Our culinary team is unique and listens to students requests and regularly adds new menu ideas to the menu. We take great pride in ensuring our menus are versatile and healthy and hope all our students have an exceptional dining experience! Please contact us if you have any questions or would like more information.