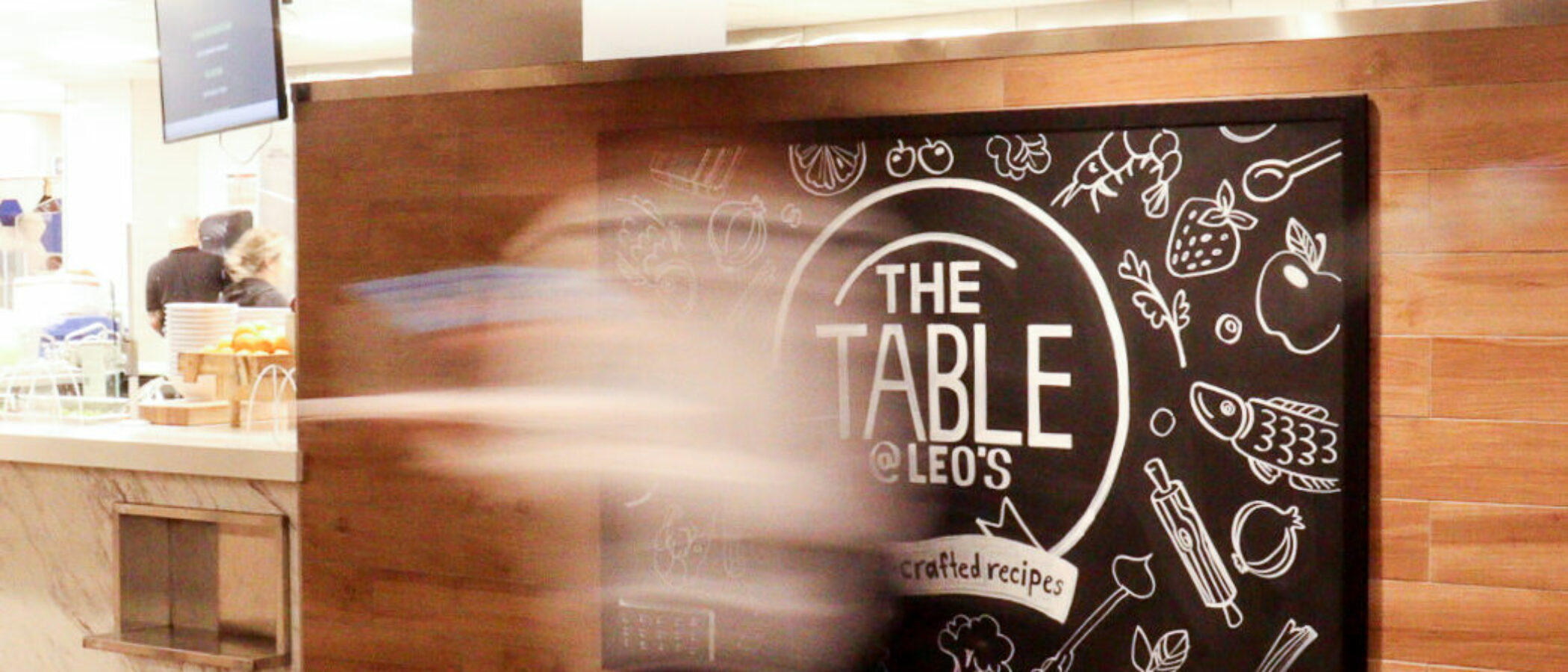 The Table at Leo's
Our main dining location is called The Table and it is located on the lower level of Leo O'Donovan Hall. When dining at The Table, our students can expect a wide array of food options that cater to many different dietary preferences and dietary restrictions. The Table features 10 different, all-you-care-to-eat, stations. Please scroll down to see a summary paragraph describing each station available at The Table.
You can also view our full menu by clicking the link below:
Allergen Station
Georgetown leads the way with our groundbreaking True Balance Allergen station, exclusively dedicated to eliminating the Big 9 allergens from every menu item. Open daily, it's equipped with LED screens displaying menus, nutritional info, allergen flags, and dietary preferences. A campus favorite, it offers diverse flavors for everyone.
Plus, for those with celiac or gluten sensitivity, our Gluten-Free Cooler stocks sandwiches, salads, desserts, bread, bagels, and snacks, available throughout the day. Just ask our chefs for assistance!
Plant Power Station
Discover our Plant Power station at Georgetown, offering delectable vegan dishes daily. Our Chef de Cuisine has curated a diverse menu with favorites like Vegan Waffles and Chickpea Scramble. Vegan items exclude meat, poultry, seafood, gelatin, dairy, eggs, honey, and vitamin D3. You'll also find vegan and vegetarian options labeled in all our dining halls. Enjoy the flavors at Plant Power – we're excited for you to join us!
Salad Bar Station
Welcome to our bustling salad bar, your first stop upon entering the dining hall. Open seven days a week for lunch and dinner, it boasts a fresh and ever-changing selection of local produce from our very own Hoya Harvest Garden right on campus!
To complement this, we offer protein options such as egg, chicken salad, tuna salad, diced chicken, and an array of dressings.
During breakfast, this versatile station transforms into a yogurt and fruit bar. It features a choice of select yogurts, freshly prepared fruits, granola, and honey, empowering you to create your own delightful breakfast parfait. Enjoy the variety!
Halal Station
Indulge in the flavors of our beloved Halal station, serving delectable cuisine seven days a week for both lunch and dinner. Discover dishes like Chicken with cacciatore sauce, herb roasted turkey, and Vietnamese Rice bowl, among others.
To ensure transparency, we've introduced a "Pork" icon throughout the dining hall, clearly marking items containing pork or related ingredients. While we strive for accuracy, occasional oversights may happen. When dining outside the Halal station, exercise caution by reviewing ingredient listings, consulting our Chef(s), or contacting our onsite dietitian to avoid any unintended exposure to pork. Additionally, any recipes containing rice vinegar or mono-diglycerides will be prominently listed in the online ingredient information.
Bowls Station
Georgetown's culinary team and dietitians collaborated to create student-friendly menu options thus we have our Bowl Station. It offers dishes with minimal oil, reduced garlic and onion, and gluten and dairy-free choices—tailored to student preferences for lower sodium and natural herb seasoning. This station features consistent menu items on a weekly rotation, including Rice, Quinoa, Rotisserie Chicken, and more, with various sauces.
Discover the flavorful offerings at this popular station!
Please be mindful that while we minimize garlic and onion and prioritize gluten and dairy-free ingredients, cross-contact may occur due to shared kitchen space.
Please note that Bowls' menu remains available during the academic year (Fall through Spring) and changes for summer sessions.
Soup Station
Our Soup Station is a daily delight, serving up fresh and ready-to-enjoy soups for both lunch and dinner. Students can get creative, crafting their own custom soup bowls with an array of fresh ingredients and four different rotating soup bases, including Chipotle Tomato broth, Vegetable Ramen broth, Chicken broth, Beef Broth, Tomato Soup, and Pho Vegetable broth.
This station is a cherished favorite, especially on chilly winter days when students are dashing between classes.
Grill Station
The Grill station at The Table is a beloved favorite, running non-stop 7 days a week, serving all 3 meals daily. Start your day with customizable omelets and breakfast sandwiches. For lunch and dinner, savor our mouthwatering Smash Burgers and choose from Turkey or Veggie burger options. Grill offers many other American classics including grilled cheese with tomato soup!
Comfort Station
As in its name, the Comfort station serves the most comforting cuisines.  Breakfast features French toast, pancakes, bacon (or turkey bacon), scrambled eggs, oatmeal, and grits, and is served through lunch!
Dinner is the star, with options like Jumbo cheese ravioli, Spaghetti Sauce, Roasted Tomatoes, Buffalo Chicken Mac and Cheese, and more. From Steamed Corn to Rotisserie Jerk Chicken, we serve up a mouthwatering selection, including Potatoes Au Gratin, Peppered Turkey Breast, and Herb Stuffing.
Oven Station
A beloved choice among students is our Oven station. While it's closed during breakfast, it opens for both lunch and dinner, consistently offering pizza and Caesar or Greek salad. Our pizza selection usually includes cheese, a meat-based option, and a vegetable-based one. You can savor varieties like Classic Cheese, Mushroom and Sausage, Meat Lovers, Grilled Balsamic Veggie, BBQ Chicken, and more.
And don't forget to try one of Berta's Cinnamon Rolls fresh out of the Oven!
Our interactions with students is what helps our dining experience exceed expectations. Our students are truly the heart of the operations and we could not thank them enough for their ongoing support and ideas. Our culinary team is unique and listens to students requests and regularly adds new menu ideas to the menu. We take great pride in ensuring our menus are versatile and healthy and hope all our students have an exceptional dining experience! Please contact us if you have any questions or would like more information.