Our Concepts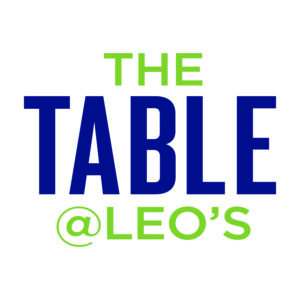 The Table at Leo's is an all-you-care-to-eat dining hall. Starting with the freshest ingredients possible, we turn our kitchens inside out to create an environment where chefs craft every dish to-order, in front of our guests. Modeled after an open marketplace, this approach allows us to creatively deliver a simply great, fresh experience — every time!
BREAKFAST A made-to-order waffle and cereal bar will be offered all day. Other breakfast options will be available until 10am including warm and toasty sandwiches; light and crisp pancakes made with fruit enriched batters; and omelets, strata, and frittata, all prepared with great fillings and fresh eggs.
PRODUCE MARKET Fresh, seasonally local greens and vegetables with an assortment of our new house-made dressings and infused vinegars and oils. Also featuring unique composed salads along with multiple whole grain and legume based salads.
DELI Custom sandwich creations built to order. We continually infuse our menu with new, delicious elements to keep guests excited. Beautiful pre-made sandwich selections are available for those on the go. Our delicious, custom crafted sandwiches are made from fresh meats sliced daily.
COMFORT Refresh and refuel with classic and globally inspired entrées that are finished just the way you like them. Look for entrees that include crispy asiago crusted chicken, honey baked ham, roast turkey dinner, country style meatloaf, and seasoned roast beef with gravy—all with accompaniments and a little twist of fun.
BROTH Delicious, hot and savory. All the qualities needed for a hearty soup. Try our Tomato soup, Raman, or keep it classic with chicken-noodle. And of course you can always build your own with a variety of noodles, vegetables, proteins, and broth.
GRILL A selection of our freshly made burgers will be available daily and ready to customize. Signature sandwiches including southwest grilled chicken, roast pork and broccoli rabe, and Philly cheesesteaks will also be featured.
OVEN Flatbread, lasagna, chicken parmesan, calzones, pizza, stromboli – hungry yet?
SAUTÉ Our small plates are inspired with authentic, global, bold, clean flavors from local and seasonal products that have been treated with care. Go ahead and mix and match dishes and share with friends.
SWEETS The perfect end to a delicious meal. Made-to-order strawberry shortcakes, crème brûlée, house-made granola bars, brownie sundaes, signature cookie bars, ice cream, deconstructed candy bars, root beer floats, cupcakes, creamsicle cupcakes, and hot out-of-the-oven chocolate chip cookies. Plus, we pride ourselves on our seasonal warm cobblers and molten chocolate cake.
HARVEST Our Executive Chef's recipes and flavor combinations with seasonal and local ingredients transform our vegan cuisine: Korean BBQ tofu with almond raisin jasmine rice, Moroccan vegetable stew with couscous, Thai coconut curry, and sweet potatoes topped with an edamame vegetable stir-fry, just to name a few.
ALLERGEN We want all of our guests to have the best dining experience possible, thus the Allergen station. With dedicated storage and prep areas and designated utensils, this station provides full meal solutions without the top 8 food allergens (wheat, soy, fish, peanuts, tree nuts, seafood, eggs, and dairy).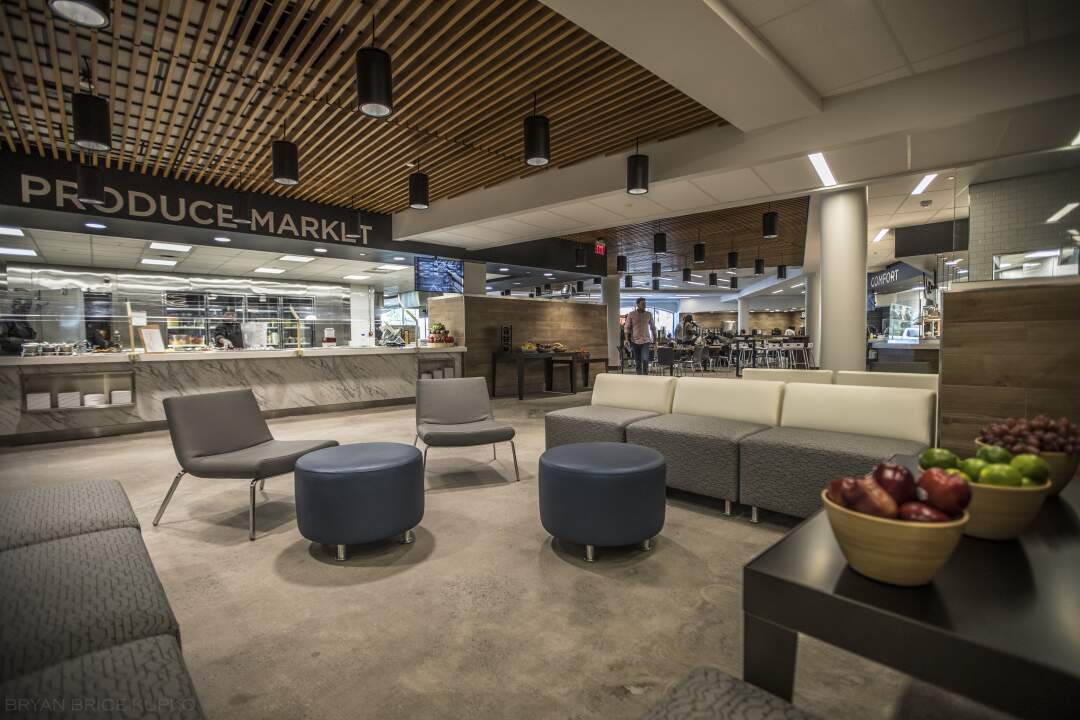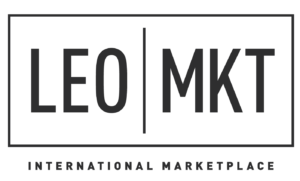 LEO | MKT provides a food hall experience inspired by global flavors and authentic dishes.
LAUNCH TEST KITCHEN  | ROTATING CONCEPT Launch doesn't just change menus, it changes concepts. Check the website often so you don't miss Burger Shack, Republic of Spice, Farmacy, Poke, Chicken Shack or Tavolino, or a local restaurant pop-up, guest chef, cooking class or one of the other fun concepts we have planned.
5 SPICE  |  ASIAN-INSPIRED Come tour with us through classic authentic dishes from China, Japan, Korea, Thailand, India, and Vietnam. Sink your teeth into a Bahn Mi sandwich, twirl your chopsticks in Pad Thai, feast on our sustainable Sushi, and hear the sizzle from the Gogigui.
BODEGA  | CONVENIENCE MEETS GOURMET Among almost every neighborhood of every city there exists the quintessential bodega. At Georgetown, Bodega is no different. It provides fresh, healthy meals on-the-go so you can stay focused on what's important.
SAZÓN  |  LATIN-INSPIRED Enjoy our house-made salsa and guacamole bar along with Peruvian Aji de Gallina, Spanish Paella, Mexican Tofu Mole, and South American Beef Stew. Sazon offers these in addition to a variety of entrees from Venezuela, El Salvador, Colombia, Puerto Rico, Mexico, and more!
OLIVE BRANCH  |   MEDITERRANEAN-INSPIRED Flatbreads, oven-baked fish wrapped in grape leaves, gyro, falafel and schwerma sandwiches, Moroccan tagines, mezze bar with house-made hummus and baba ganoush, along with baked pastas and casseroles. Italy, Spain, and Greece are just a few of the countries you'll be able to enjoy here.
WHISK  |  PASTRY & BAKESHOP Warm and toasty sandwiches; light and airy croissants; cinnamon rolls and pastries made with enriched batters. Enjoy wraps, quiches, and rolls for breakfast – all prepared with great fillings and farm fresh eggs. Satisfy your sweet tooth with cupcakes, jumbo cookies, extra thick and fudgy brownies, and cakes for that last minute party. In addition to our pastry chef's daily signature delights, we've partnered with local favorite Commonwealth Joe coffee roasters.