Meet the New Campus Health & Wellness Manager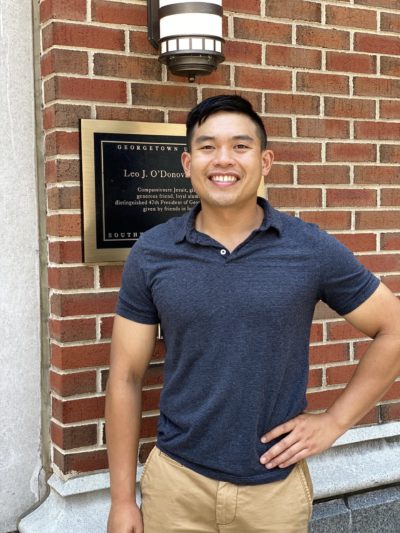 Hi Georgetown Community!
My name is Brian Tran, MS, RDN, CPT! I am originally from Falls Church, VA so I am well acquainted with the DC area. My background is in wellness promotion, culinary arts, fitness and nutrition. I have served as a health & wellness professional at three different universities including James Madison University, Portland State University, California Polytechnic State University, and now Georgetown! In addition, I served as a culinary instructor at a summer camp out in Massachusetts. My work with nutrition has always focused on helping college students find freedom with their nutrition decisions and learning how to better prepare foods at home/dorm while placing an emphasis flavor with nutrition as the foundation. Outside of nutrition, I am ACSM and ACE certified in personal training and group fitness instruction. If you have any questions regarding nutrition, navigating Georgetown dining, or fitness I am your guy.
~Brian
Meet the New Campus Health & Wellness ManagerHi Georgetown Community!My name is Brian Tran, MS, RDN, CPT! I am originally from Falls Church, VA so I am well acquainted with the DC area. My background is in wellness promotion, culinary arts, fitness and nutrition. I have served as a health & wellness professional at three different universities including James Madison University, Portland State University, California Polytechnic State University, and now Georgetown! In addition, I served as a culinary instructor at a summer camp out in Massachusetts. My work with nutrition has always focused on helping college students find freedom with their nutrition decisions and learning how to better prepare foods at home/dorm while placing an emphasis flavor with nutrition as the foundation. Outside of nutrition, I am ACSM and ACE certified in personal training and group fitness instruction. If you have any questions regarding nutrition, navigating Georgetown dining, or fitness I am your guy. ~Brian

Posted by Hoya Eats on Wednesday, August 5, 2020