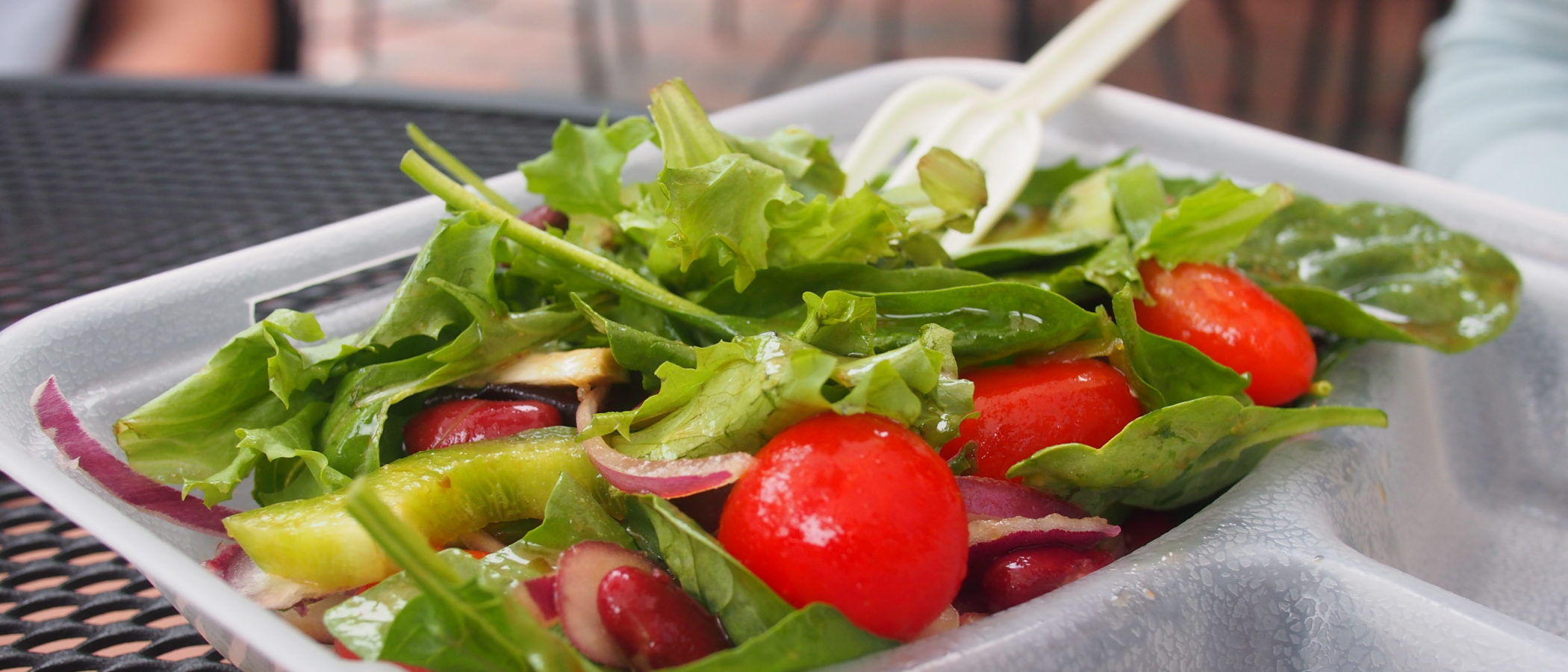 Reusable To-Go Program
All the details you need to enroll in our program
THIS PROGRAM IS TEMPORARILY SUSPENDED TO  HELP ENSURE THE SAFETY OF THE CAMPUS COMMUNITY.
Take your food wherever you want to go with our reusable to-go container program, available at The Table at Leo's.  Meal Plan holders are eligible to participate in our to-go program for free after registering in the program. Once registered, you will receive two "to-go tags" to utilize when you choose to check out a reusable box for a meal to-go. When you return for your next meal, you can return the used to-go box to receive a clean one for no charge or receive a reusable to-go tag to claim a new box at a later time.
A few things you should know:
Meal Plan holders must first enroll in the reusable to-go program to receive their two to-go tags. To register, please fill out the form below.
To receive your reusable to-go, let a team member at The Table at Leo's know you would like your meal to-go at time of purchase and exchange for one to-go tag or container.
Disposable beverage ware is provided as a part of the reusable to-go program.
Meal Plan holders are only able to check out a maximum of two containers. If a Meal Plan holder reaches the two container maximum, they must either bring back the checked-out containers or purchase a new tag for $5.
Don't have a Meal Plan? No problem! You can purchase a reusable to-go container for $5.00. If you already own a container, let a team member know prior to purchasing a meal and make sure to request a new one each time you enter the dining hall. It is important that guests without a Meal Plan not return the container without requesting a new one as this will opt you out of the program and you will have to purchase another container to participate. Please be advised that any service ware used in the dining halls intended for refilling with food needs to be cleaned in a regulated food service operation. This is the national FDA Health and Safety standard; therefore, no outside service ware is permitted in the dining halls. Outside service ware includes but is not limited to personal plates, bowls, Tupperware®, clamshells, cups, bottles, etc. Thank you for considering your fellow guests.