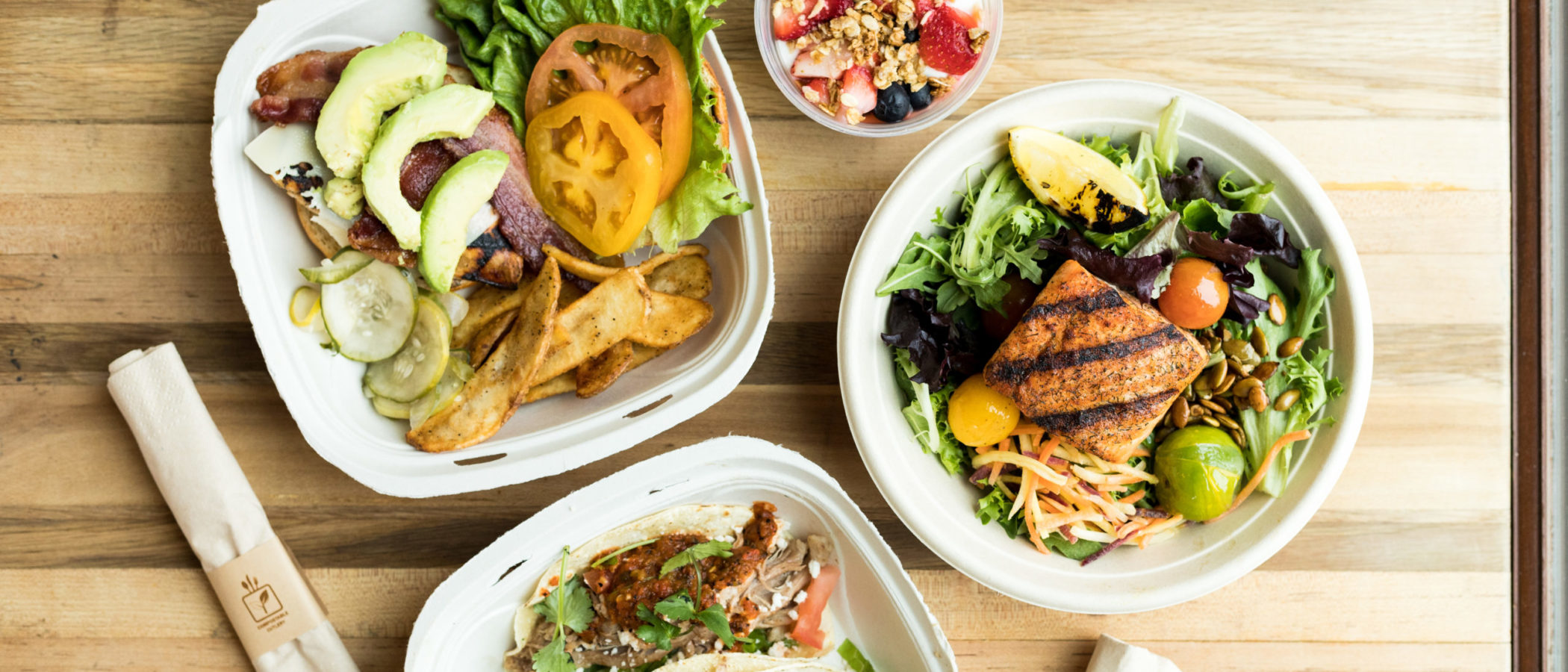 Reusable To-Go Program
All the details you need to enroll in our program
WHY WE REUSE
As part of our ongoing efforts to reduce single-use items, we are relaunching our reusable to-go container  program. By replacing the 233,100 single-use containers, flatware, and straws used in one year, we reduce the resources and energy required for production, as well as cut down on landfill waste from containers that were not disposed of properly. We are excited to take this step to further support environmentally conscious habits on campus. All students are able to enroll in the program at no cost!
HOW TO REUSE
Once you opt-in to the reusable to-go program, you will be given a Hoya Hospitality carabiner that you can use to exchange for a clean container. You can pick up this carabiner at the Welcome Desk @ the Table after signing up. Fill the reusable container with food from the Table @ Leo's to eat on-the-go and return your container to be washed. When you return your container, you can either exchange it for another clean container, or receive another carabiner to use as a voucher the next time you need a clean to-go container.
WHO CAN REUSE
Georgetown students at every level of meal plan are given a carabiner at the beginning of their introductory year. For those who would like to participate in the reusable program but do not have a meal plan, containers are available for a one-time purchase of $7! Collect your Hoya Hospitality carabiners from the Welcome Desk at the Table @ Leo's.
A few things you should note:
If you have lost your complementary carabiner or container, you can get a new clean container for a $7 charge.
To receive your reusable to-go container, let a team member at the Table @ Leo's know you would like to receive your meal to-go and exchange your carabiner or previously used container.
Please be advised that any service ware used in the dining halls intended for refilling with food needs to be cleaned in a regulated food service operation. This is the national FDA Health and Safety standard; therefore, no outside service ware is permitted in the dining halls. Outside service ware includes but is not limited to personal plates, bowls, Tupperware®, clamshells, cups, bottles, etc. Thank you for considering your fellow guests.
Fill out the form below to opt-in and take your food to-go at the Table @ Leo's!
Make sure to pick up your carabiner at the Welcome Desk @ the Table!